Marianne Johner and Olga Bingisser "M&O", are spending the summer and autumn on Elba.
Everyone wishes them a nice holiday on their departure. When working is so much fun, you could almost call it a holiday ;-). But in fact, M&O offer our clients an (almost) round-the-clock service.
On Elba, as always on holiday, the day begins with breakfast. You enjoy your cappuccino and a typical Italian brioche on the terrace at Capo Bianco with the first rays of sunshine. M&O don't have so much time and take "solo un caffè al volo"...
In 10 minutes you can walk to the dive centre in Barbarossa Bay. M&O have already prepared your equipment there. At the check dive you have to show what you remember from the last dive course. M&O will teach you everything else.
Getting started with the Elba roll is for daredevils only. You will manage! If not, M&O will help you.
If you have forgotten the details of the dive site by now, it doesn't matter. M&O know the area like the back of their hand and will guide you to the best spots and of course show you where "Cave-Toni" lives.
Maybe your buoyancy control wasn't perfect on your first dive or you want to know more about the creatures that M&O have discovered for you. During the return trip on the sun deck, M&O will be happy to give you tips and know which course suits you best.
In Barbarossa Bay, the Aperol Spritz or "una birra" is already waiting for you. M&O will give your friends a bit of theory, but they can already drink a Campari. There has to be a bit of a holiday mood.
Are you wondering where to go for dinner in Porto Azzurro or what else you can do on the island? Just ask M&O! They also know a lot above water.
Would you like to go to Elba today? We're happy to hear that, but be patient, M&O won't be there until mid-June. But don't wait too long to book, because once you've been to Elba with M&O, you'll always book again!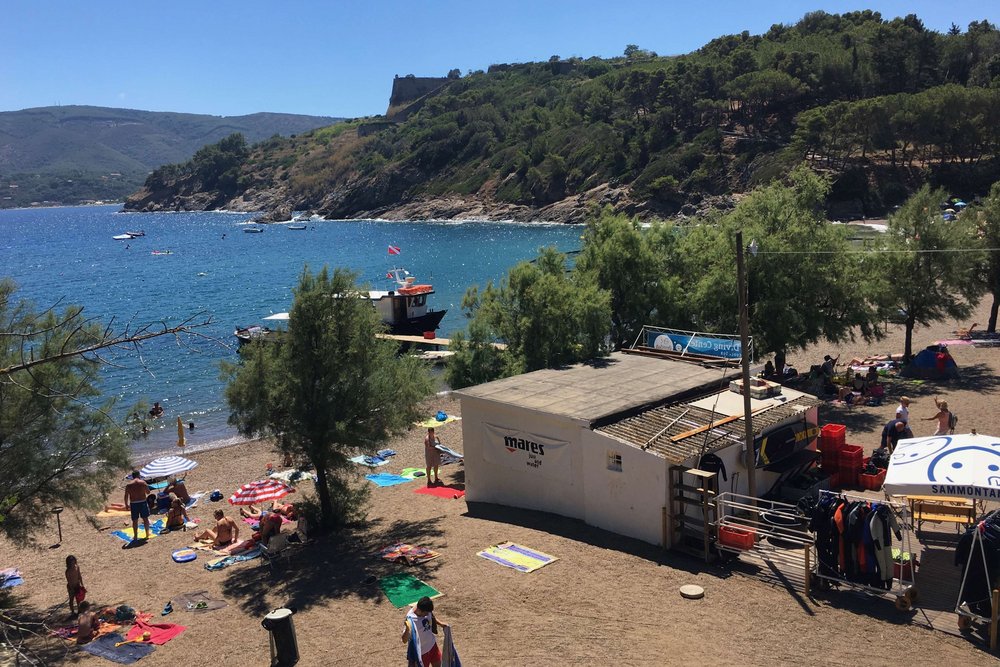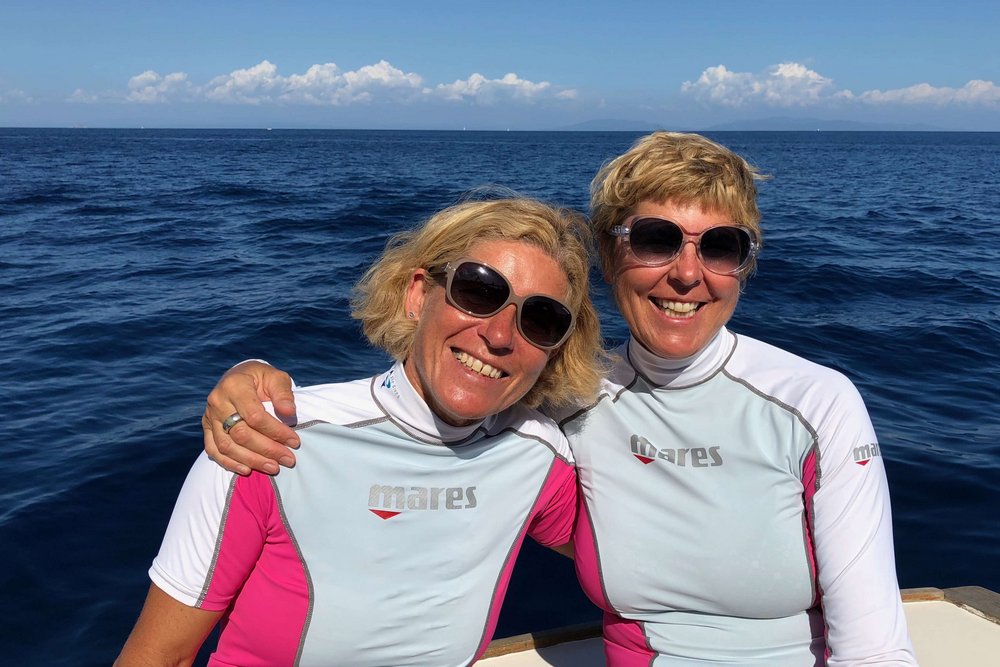 We did it! You can go on the boat in the afternoon. But not before enjoying a plate of pasta at the beach restaurant. Meanwhile, M&O give your two friends their first open water lesson in the bay.
The diving boat "Matteo" departs promptly at 2.30 pm. The trip to the dive site is already an experience. M&O are of course also on board and enjoy their "Panini" while you watch the dolphins with a bit of luck.
After about 30 minutes we arrive at "Grottoni". In the 3D briefing from M&O you learn what the dive site looks like and how to find "Grottoni". You will find out soon enough what the word play Grottoni / Grotte-Toni is all about.