Why dive with children?
There are many good reasons why diving with your children is a great thing to do. Not only do you strengthen your bond by experiencing something special together, but the little ones discover the animal and plant world under water up close and learn a lot about the processes in their own bodies. They become sensitised to the issue of environmental protection and learn about the technical intricacies of diving. Children can also build up a healthy self-confidence through an activity like diving.
And isn't it much nicer to see the animals from the What's What picture book in the wild than in an aquarium? For your children, encounters with "Nemo", schools of fish or turtles are at least as unforgettable as they are for you...
My child wants to dive - what now?
"Mum, Dad - I want to dive too." And now? If it is still clearly too early for a diving certificate, you can first introduce your child to breathing under water with a snorkel and mask. The focus should be on having fun and getting used to the water. Just the experience of being able to see and breathe underwater is an exciting new experience and prepares your children for scuba diving with a tank and jacket.
From what age can my child take a diving licence?
Und wann darf mein Kind denn sein erstes PADI Brevet machen? Für einen offiziellen Tauchkurs gilt ein Mindestalter von 10 Jahren. Nach Abschluss des PADI Junior Open Water Kurses a child may then accompany a parent on dives worldwide. The first exercises of the course take place in the pool. It is important that the child is able to understand connections and recognise problems. This way, the right practices for safe diving can be taught for later dives in the buddy team, when you want to discover the most diverse dive sites together.
A first tryout course - PADI Bubblemaker​​​​​​​ - in confined open water can be completed by your junior at the age of 8. Here, he is introduced to the art of breathing under water in a playful way. There are no further special requirements for the trial dive.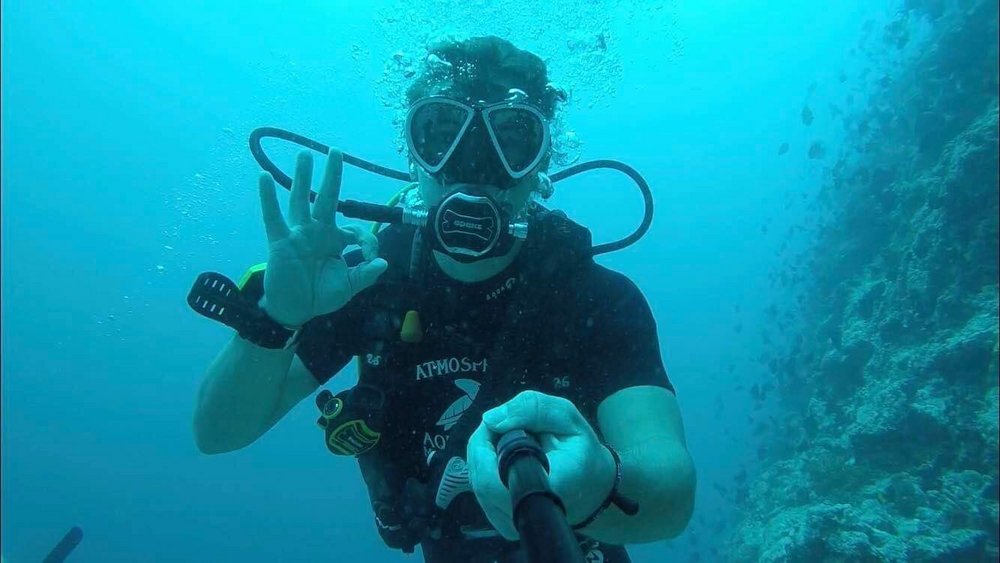 What diving courses can children take?
The PADI Bubblemaker as a taster course is a good opportunity for children to try out whether they might enjoy diving. Children from the age of eight can take part in this course; a medical check is not yet required. For the​​​​​​​ PADI Seal Team your child should be examined for diving suitability. In the PADI Seal Team, diving equipment and dive signs are explained in various specialisations (so-called Aqua Missions), first exercises with buoyancy jacket and regulator are carried out and the flooding of the mask is practised. At the end of 5 completed Aqua Missions, the PADI Seal Team Member Brevet is awarded. This certification is suitable for children between 8 and 10 years of age who are enthusiastic about diving.
From the age of 10, your children can participate in PADI Junior courses independently or as a parent-child team and obtain a full diving licence. This allows them to dive in the open water with an escort, although the depth is limited up to a certain age. The course will of course include pool lessons, mandatory dives and a textbook/digital learning tool for theory. These junior courses start at​​​​​​​ PADI Junior Open Water Diver up to the​​​​​​​ PADI Junior Adanced Open Water Diver.
What medical aspects are important for diving with children?
If you want to dive with your child, a medical check should be carried out beforehand. It is important to make sure that the lungs are functioning properly and to check for infections or accumulated secretions from previous infections. If your child has asthma, the lung function test is especially important - if there are too many problems, your child should not dive (yet).
Congenital heart defects or other conditions should also be urgently communicated to the examining doctor in order to be able to exclude possible risks. A stable spine is additionally an important condition so that the child can carry the equipment without damage.
In addition to the physical prerequisites, the check should also pay attention to the child's mental situation. After all, the ability to concentrate and discipline are particularly important when diving, which is why other factors must be taken into account for children with ADHD. Our experience so far has shown that children with ADHD, even with the help of medication, can learn to dive, obtain a diving certificate and experience great dives. However, whether a child can potentially learn to dive must ultimately be decided on an individual basis.
How deep can my child dive?
Children are generally allowed to practise in shallow water first. With a PADI Junior Open Water Diver Brevet they can dive to a maximum depth of 12 metres between the ages of 10 and 11, and between 12 and 14 a dive can go as deep as 18 metres - depending on the child's experience and safety in the water. With the PADI Junior Advanced Open Water Diver this limit shifts to 21 metres. This brevet may be pursued from the age of 12.
As a matter of principle, it should be ensured that children, who are usually somewhat more susceptible to cold than adults, do not cool down. The diving depth as well as the wetsuit and the length of the dive are important factors here that define the dive.
How do I register my child for a diving course?
The different diving courses and options for juniors can be found at here.