I am Christian, 38 years old and live in Zurich. I'm not a water enthusiast and find scuba diving much too time-consuming. But YouTube has awakened a growing interest in the topic of freediving. Diving into the depths with just one breath sounds mega exciting. I want to try that out, but safely and not alone. After a short search on Google I come across the PADI Freediver courses at TSK. Without further ado I get all the information by email from the dive school director Annick. In the 2 weeks until the start of the course I have time to work through the theory online, get the OK from the diving doctor, and try on the teaching materials at TSK. Finally, the time has come: let's go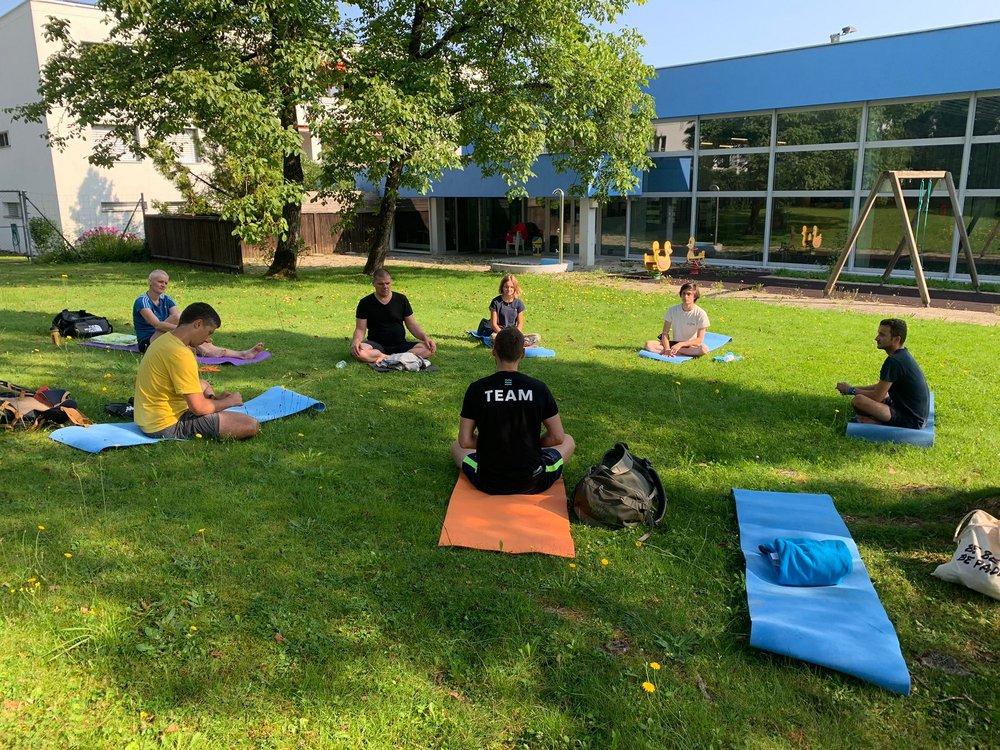 Tag 1 - PADI Basic Freediver Course
I arrive at TSK on Stauffacherquai in the morning and am offered coffee and water by a friendly staff member - great. We are 6 students and are greeted by our PADI Freedive Instructors Phil and Melissa. After a round of introductions and equipment check, we discuss the day's program and then move to the indoor pool in Langnau. On the sunbathing lawn and our yoga mats we follow the theory part, which is competently presented by Phil. Thanks to the previous online theory, this part runs very smoothly. I feel well versed in the subject and can ask questions at any time if something is unclear. Afterwards warm up, stretching and meditation - very pleasant and relaxed. After a convivial picnic lunch we get into the wetsuits for the first practical part - static apnea diving. We discuss and practice the buddy techniques and start our attempts. After 3 dives each in a concentrated and very relaxed
atmosphere all participants have already passed the course requirement of 90 sec air holding under water - great. We continue with dynamic apnea diving. Again, first getting to know and trying out the buddy technique and then the dives start. I am a little nervous, because it is the first time for me with the long Freedive fins, wetsuit and weight belt. Phil and Melissa give individual instructions on how to adjust the equipment, swimming and relaxation techniques. After a few repetitions, all participants have passed the 25 m minimum requirement for distance diving - I am satisfied. We pack our things, shower and move back to the TSK. With a glass of water or beer we finally discuss some theory questions and let the course day come to an end. All have passed and are richer by a nice experience in a nice group.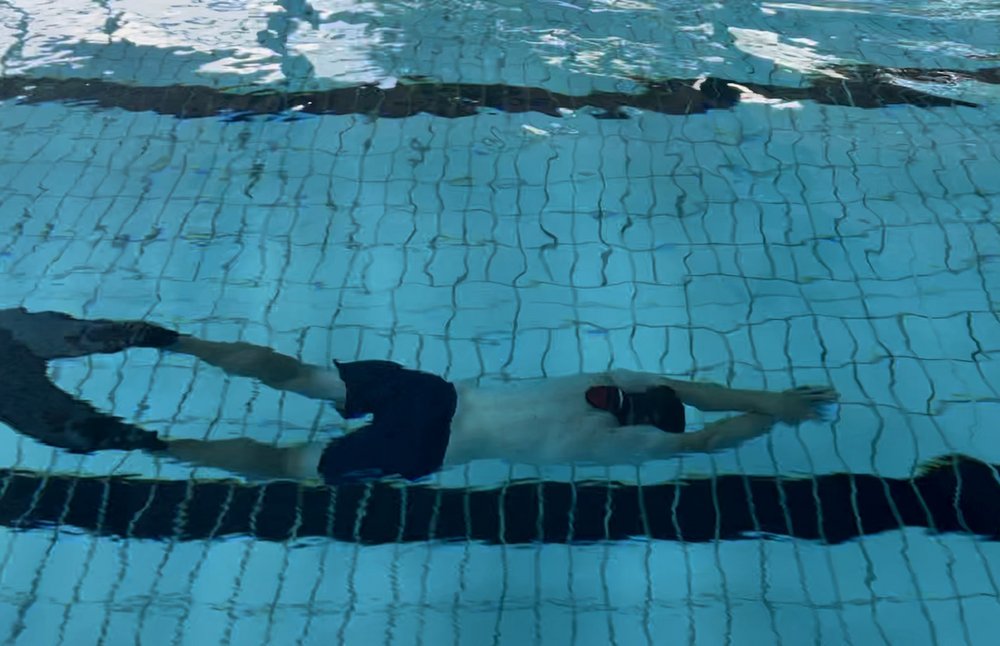 Tag 2 - PADI Freediver Course
Also the second morning starts at TSK. We are 4 participants and our PADI instructors are Simone and Phil. Today we go into the depth - finally. We move to the dive site in Kilchberg at the Zürisee. On the sunbathing lawn we discuss the handling of the diving buoy and lanyard, the buddy technique, and the planned exercises. It will be 2 diving sessions - great. But first warm up, stretching and breathing exercises. The Freedive equipment put on we swim a short time later distributed at 2 buoys out on the lake. The first exercises take place at a depth of up to 5m. "Free Immersion" - pulling yourself down the rope in a controlled way with your hands and doing the pressure equalization again and again. Then "Constant Weight Freediving", diving down only with fin strokes, and finally practicing the buddy technique in practice.
Then we extend the rope to 10 m depth. I need several attempts. Again and again it goes down to 6m and 8m, but then I feel tense in this unfamiliar, colder, and yet so wonderfully quiet environment. After each attempt, I briefly discuss with Simone what I can improve. Before the next passes, I concentrate more on breathing and relaxation. And finally it works, a relaxed and quick descent, slow controlled leg strokes and frequent pressure equalization and I have already reached the targeted 10m. I turn around slowly, pause for a second and then surface in a controlled manner - I am satisfied. After lunch break on the beach, we move back to the lake for the second session. This time the rope is suspended to a depth of up to 16m. I take it slow, listen to my body and realize that at 12m is the end for me today.
Once again, everyone has passed the course. Then the rain comes. We practice rescue and towing techniques and return to the beach and TSK. As the day before over a glass of water or beer we discuss some theory issues. At the end we are invited to join the WhatsApp group of the Freedive Academy Zurich to meet Freedive Alumni of the TSK for diving even after the course.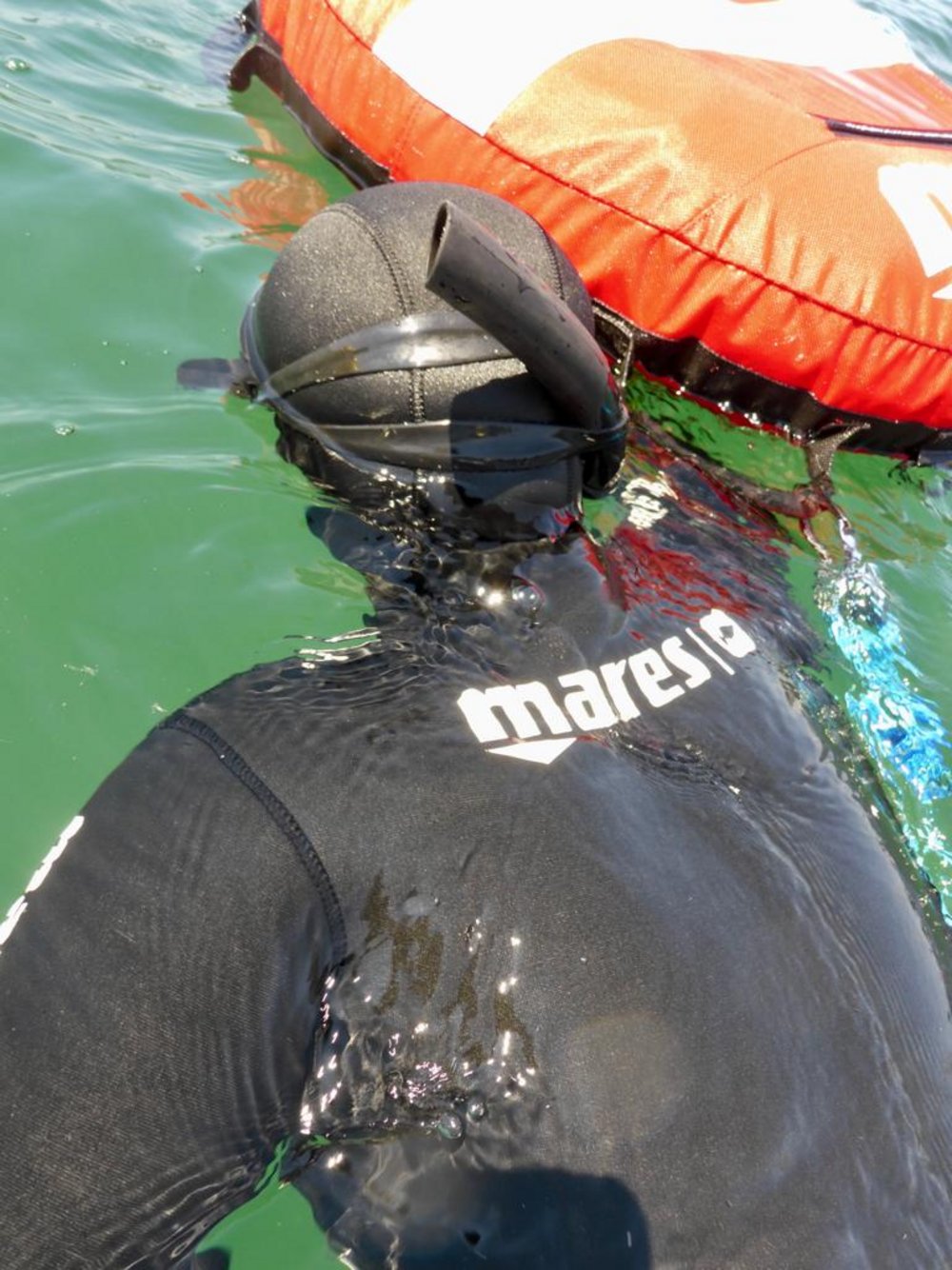 How did I like the PADI Freediver courses at TSK? The answer is: Very very good! I got a first insight into the fascinating world of freediving, learned about safety practices, and was able to test my own limits without exceeding them. I thank my instructors Phil, Simone, and Melissa for their competent guidance, patience, and individual tips. For me, the courses were a super motivating start to a new hobby.
Thank you TSK! - Report by Christian P.
You also want to start freediving or continue your training?