Diving in a dry suit is difficult! This equipment is extremely uncomfortable! Just two of many myths that revolve around dry suit diving. This is a pity as it prevents many divers from experiencing this special kind of diving.

If you follow us on the social media you will notice that we love diving in our home lakes more than anything. Here we recommend that you read the Blog "Weil es sich lohnt" , to understand a large part of our motivation. But what makes a dive in a dry suit always a special experience is the fantastic feeling of flying, of freedom, of weightlessness - like on cloud nine! But you simply have to have experienced it first-hand to understand how great it is!

A modern and well fitting dry suit offers you exactly this feeling. You are carried by pleasantly warm air around you. Your cuddly underwear feels like a comfortable pyjama. Like in slow motion you float in the liquid universe of water - a moment that simply makes you happy. Forget the old stories of constricting, uncomfortable suits, where you shoot to the surface feet first as soon as you make a wrong move, as if Neptune himself wanted to catapult you out of the water.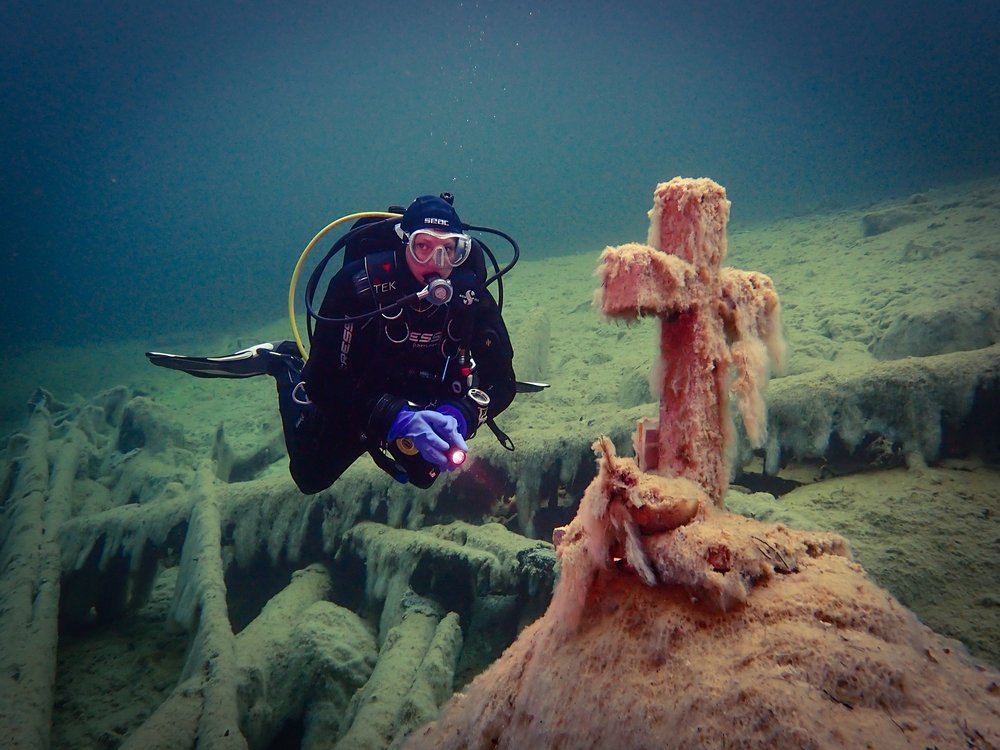 It takes exactly three things to become a happy dry suit diver. First you complete the 1-day PADI dry suit diving course (PADI Spezialkurs Trockentauchen.), then you buy the perfect dry suit including the matching underwear with our expert support. Then it's time to come along for our free Sunday and Thursday dives (in Zurich) or with the club of the Dienstagstauchern (in Bern), so with a little practice you could float like an angel.
To have fun with the dry suit, an own dry suit is almost indispensable. With no other piece of equipment is the perfect fit so important as with a dry suit. Here we have different offers, for every cold water longing budget. You can benefit from our vast experience in cold water diving and together we will find the right suit for you.
Trilaminate dry suits are the choice of most divers today. They are very comfortable, extremely easy to dive, light and travel friendly. Just like in mountain sports, you work with different layers, which you put on underneath a trilaminate dry suit. From thermal underwear to warm and fluffy underwear, you can combine everything according to how you feel and the temperature of your diving area. Divers in the lake will of course in most cases want a dry glove system such as the Waterproof Ultima or the CheckUp system. And for the especially big "Gfrörlis" there are also the heated vests from Thermalution, which keep you especially warm with infrared - always following the motto, may the warmth be with you!
So you see, floating on cloud nine is possible right in front of your front door. We are blessed with many, incredibly great dive sites in close proximity. To explore them you simply need the right equipment, first of all a perfectly fitting dry suit. What is your hesitation? Just try it out and become an enthusiast of cold water diving! We are here for you and gladly advise you.
Once you start dry suit diving, you will always be a dry suit diver.